****PLEASE CALL THE LOCATION NEAREST YOU TO RESERVE THE PACKING SUPPLIES YOU NEED.****  
This box is 12.5"x12.5"x12.5".
This box is used to transport clothes on hangers between destinations.
Wrapping paper is perfect for wrapping fragile items for packing, this helps prevent anything from breaking.
A larger width of bubble wrap to protect your big items.
Rope is a universal tool while moving. If you find yourself in the situation where you need some, we sell them in the front office.
Shrink wrap is great for keeping loose items together.
Use this item to protect your sofa from debris and dirt while you move.
Protect your chairs from getting dirty during the move with this chair cover.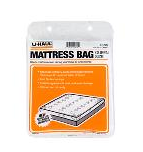 This product is great to protect your twin or full mattress from the elements during your move.
This product is available for purchase to protect your queen or king mattress from the elements during your move.
One of the most secure locks on the market.
TAPE & DISPENSER W/ 1 ROLL
 Dispensers help tape up boxes quickly without causing a hassle.
Tape is one of the most universally used moving supplies and probably the most handy. We sell it by the roll on site in case you forgot or run out.